Even with the best dynamic range imaging possible, certain subtle features can be hard to see under typical weld camera conditions. However, by incorporating image processing tools such as an Edge Detector into weld camera systems, operators are able to measure specific features of their weld processes that are otherwise difficult to monitor.
Edge Detector Tool
The Edge Detector tool from Xiris is a powerful edge detection and analysis utility that can detect edges, or areas of rapid contrast change, within a region of interest. When used with a weld camera, the edge detector can help find the size and position of numerous features in a welding scene such as wire width and length, weld seam gap or center, molten pool boundaries or torch tip edge quality.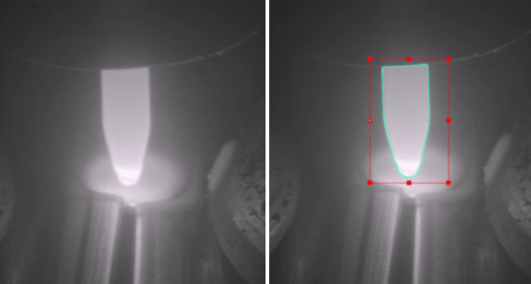 Original image of a TIG torch (left) and after with the Edge Detector tool applied (right).
The Edge Detector generates a projection of intensities from a region of interest into a profile, then analyzes the profile to find any presence of edges. Each edge has a series of properties such as edge strength and expected polarity and location that can be used to measure or sort each edge so that objects in the weld environment can be analyzed. The net result is a new way for fabricators to enhance the monitoring and controlling of their weld processes.
Latest Software Release
Xiris has recently released the latest version of WeldStudio™ software with new updates to improve image processing. Both the Edge Detector and Caliper tools now support operation for any degree angle rather than the previous capabilities of just 0 and 90 degrees.
Edge Tool - Finds all the edges in a region of interest that match specified criteria
Caliper Tool - Finds all the edge pairs in a region of interest that match specified criteria
When operators are in the software and are recording the weld process, the edge detection angle can be adjusted using the rotate tool in the selection box or using the slider in the edge detector tool. Once an angle has been selected and the edge is found, it will be tracked. To see these tools in action, check out the video below.
Along with changes to the Edge and Caliper tools, the latest software version also features other updates such as new processing modes for the LightMeter tool that allow for hot and cold spot detection. The latest software release is a big improvement to further improve monitoring and controlling of weld processes for operators. If you have any questions or wish to learn more about Xiris WeldStudio™, request to speak with one of our experts.
---
Stay up to date by following us on social media or subscribe to our blog!