Xiris's XVC-1100 kit and XVC-1000e HDR weld cameras are transforming the way aspiring weld operators are taught.
Xiris Cameras an Asset in the Classroom
The XVC-1100 weld camera kit, which is being used at the Southern Alberta Institute of Technology (SAIT), enables students and instructors alike to capture and save videos of their welds. During instruction, the XVC-1100 allows students to see what the instructor is doing on a large, projected screen- rather than having to crowd around the instructor performing the weld. During practical work, students are able to perform a weld and save the recorded video so that they can review their weld and technique after they are finished.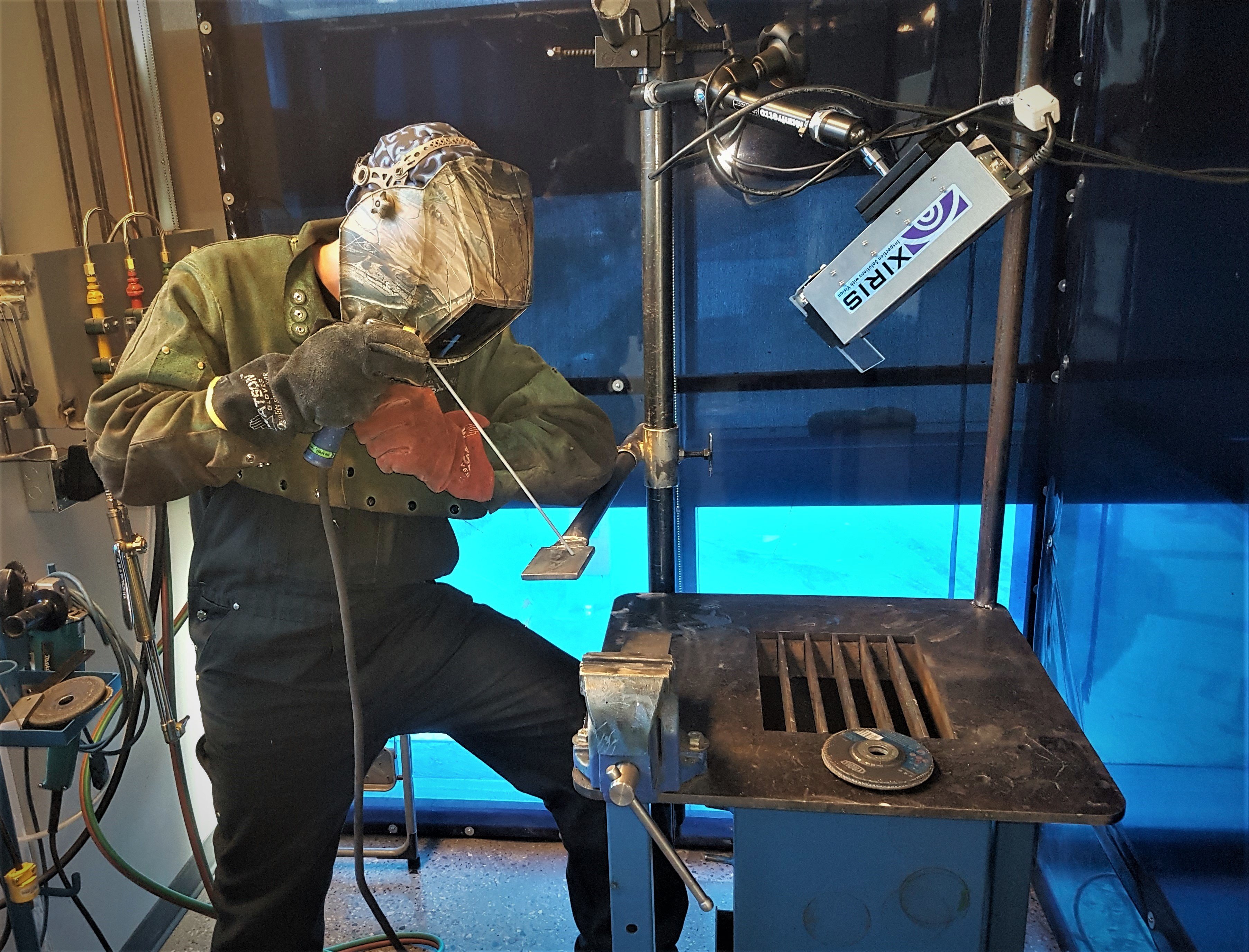 The Xiris XVC-1100 camera installation at SAIT Polytechnic enables students to film and review their welds.
The XVC-1000e weld camera is being used at Santa Anna College. The camera is mounted directly on a weld robot, similar to how welding occurs in many manufacturing environments today-thereby providing students with correct training in the welding techniques they'll use in the workplace once they graduate.
The XVC-1100 and XVC-1000e cameras both feature adjustable optics. With a tightly focused view, students can see the interaction taking place between the wire fed metal and the parent material as well as a clear view of the weld arc and the resulting melt pool. When the camera is configured with a larger view of the welding process and its coupon, the student can see all the motion during the weld process so they can learn the hand and torch positioning techniques from the instructor.
Both types of cameras allow welding instructors to demonstrate to their students good and bad welds- and what determines the difference between a good and bad weld.
As weld cameras increasingly become a standard tool in welding processes of all types, their use in welding education is becoming an important step in the training of the next generation of welders. Not only do the cameras help students learn the basics of welding, bringing cameras into the classroom provides another way for students to learn welding adopt new technologies in their future professions.
This is why the use of the Xiris Weld Cameras in instructional settings will continue to grow.
Our XVC Evaluation Kit for educators includes everything instructors need to record and playback their welding processes, including cables, an assortment of lenses, and more.
If you are interested in learning more about our company and products or using our weld cameras, please contact us
here.