A Weld Camera used for remotely viewing welding processes can become an even more powerful in-line monitoring tool with the addition of real-time annotation of production data into the recorded video.
When connected to a welding power supply, a Weld Camera system such as the Xiris XVC-O can acquire production data and write it to the exact video frames when it is acquired. By synchronizing the writing of the actual weld power supply data to the video frame with the physical image of what is happening with the weld, operating personnel are able to perform more detailed analyses of recorded welding parameters during welding or after the weld is completed.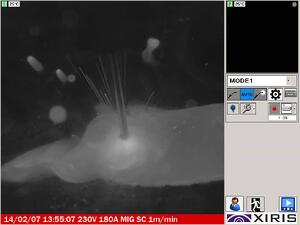 The integrity of every weld can be ensured when the weld video is recorded with annotated data, such as the following:
Weld power profiles (welding voltage, current, conductance)
Pulse Mode, Frequency
Type of Welding
Material
Travel Speed
Force and displacement profiles
Time and Date Stamp
When it is enabled, the XVC-O View Camera can automatically embed a label into the bottom of the recorded video with multiple sets of information sent to it from the welding power supply. During the welding process, welding anomalies can be seen as they occur to stop and fix the process. After the weld, any anomaly in the weld process can be reviewed in the recorded video to see exactly at what level the system parameters were set when an observed problem took place.
The net result is that the operator is able to maximize the amount of information the recorded weld video provides with simultaneous image and data recording.
Benefits:
Make more informed quality control decisions.

Improve your welding processes by discovering what parameters make good and bad welds.

Rapidly determine the optimum power settings to use to get the best quality welds.

Troubleshoot set-up problems and machine malfunctions immediately.

Provides empirical information matched to a video log about the welding process.
Conclusion
If weld quality is of utmost importance, the use of recorded weld videos with labelling helps to ensure your welds are in-process, stable and repeatable.