Additive manufacturing is an increasingly attractive technology that has in recent years graduated from a basic prototyping technology to one capable of producing large volumes of highly intricate part geometries in a wide range of materials. Of particular interest is the ability to produce complex geometries from industry grade metals for use in several fields including aerospace, biomechanics, and mold and die.
ASTM defines three subfamilies of additive manufacturing that are currently able to process metals: direct energy deposition, powder bed fusion, and sheet lamination. These families differ in their setup of feedstock material but all employ a directed energy source such as a laser or electron beam to process it. These laser additive manufacturing processes are characterized by rapid melting and solidification of subsequent layers in a tightly controlled environment.
Due to the repeated melting and solidification of layered material, parts undergo a complex thermal history and present a set of unique thermo-physical and metallurgical challenges. The most common defects seen in the laser additive process are a result of difficulties with maintaining a consistent melt pool caused by insufficient/excessive heat, oxidation, or contamination of the melt pool. The resulting micro-porosity in the build commonly propagates fatigue cracking in finished parts.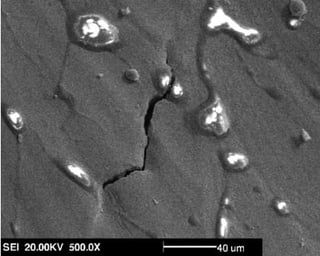 SEM image of fatigue cracking in stainless steel created by selective laser melting [1]
Introducing a Xiris high dynamic range weld camera during the manufacturing process allows the operator to see exactly what is happening during the laser additive manufacturing process, namely how the laser keyhole and melt pool are interacting with the surrounding material and previous layers. With such a camera, the size, shape, and consistency of the melt pool can be directly observed making critical problems such as an uneven melt pool, unfocused or unsuitable laser power, misalignment of the powder supply, or material powder contamination easy to identify and correct.
By determining the root source of these problems, a better understanding of build failure can be obtained and potential issues can be identified before they continue through the entire production process. This is especially useful for products that contain internal cavities or other features that are difficult to inspect post-build. On average, one quarter of the total time required to complete a laser additive manufacturing build is spent on the post-build inspection. The Xiris weld camera provides increased confidence in the quality of your components and can reduce the need for post-build inspection or destructive testing.
Laser Additive Manufacturing – Steel – Process Monitoring
For more information on how Xiris Weld Cameras can enhance your laser additive manufacturing processes visit Xiris.com
You can visit our
for dozens of examples of the camera in action.
Don't miss any of our amazing videos! Sign up to receive the Weld Video of the Month
References: [1] Li. R. et al. Densification behavior of gas and water atomized 316L stainless steel powder during selective laser melting. Applied Surface science. 2010. 256(13) pp. 4350-4356.