Aluminum welding needs to be performed typically "hot and fast." When using automated welding equipment, it is very challenging to get the process parameters correct. To aid in automated aluminum welding processes, a weld camera can be used to monitor for process variations that could cause a poor weld, including:
Burnthrough: Higher thermal conductivity and lower melting point of aluminum alloys can easily lead to burnthrough. Even on thicker material, welders have to carefully monitor that welding current high enough to penetrate the weld joint adequately does not cause burnthrough.
Cracking: Aluminum TIG welds often have a tendency to crack if there is not enough filler metal to change the weld chemistry to make it less crack-sensitive.
Weld Shape: A good aluminum weld will be flat to slightly convex in shape. If welds are ropey or convex, it is usually an indication that not enough energy was provided to the weld and cold procedures or undersized equipment was used.
Heat Affected Zone: by monitoring the size and shape of the HAZ, operators can reduce how much the base metal melt, reducing the opportunity for stress cracking;
Shielding gas: In thick aluminum welding, monitoring shielding gas size, shape and color can indicate its chemistry. Altering the chemistry can vary the heat input, changing the weld root width penetration, and reduce porosity.
Weld discoloration: may indicate metal oxides are cooling outside of the shielding gas range on the base metal, increasing the possibility of contaminants.
Oxide layer: if oxide layer has not been adequately removed in the weld arc, contaminants could migrate into the weld, causing porosity or cracking.
All these phenomena can be seen by a trained operator when remotely monitoring the aluminum welding process with a welding camera. To achieve best quality of image, a monochrome weld camera can be used at low exposure rates to produce the best image because the aluminum weld arc is so bright, offering better contrast and dynamic range than a color camera.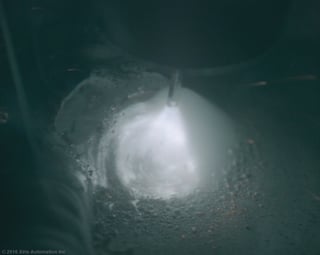 Image of Aluminum welding with a Monochrome camera,
at extremely low exposure