"Most welding shop foremen who interview welders give them a weld test and know from halfway across the shop by the sound of the weld if that welder will pass the test."1 This quote from GoWelding.org highlights how important sound is in welding. This is why our team at Xiris has added audio monitoring to our popular weld cameras.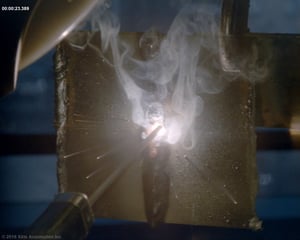 Since launching our audio package, we have been diving into audio monitoring in more detail, talking about how monitoring audio can benefit operators and what to listen for in GMAW and GTAW. Today, we're looking—and listening—in more detail to SMAW, or stick welding.
Like GMAW, SMAW should sound like cooking bacon.2 If the arc sounds overly loud, your amperage might be set too high.3
To set up your welder, strike an arc and listen to the crackle of the rod. Adjust the power setting (amperage) until you hear the sound of bacon or eggs frying.2
It may take years for welders to amass the experience necessary to recognize what quality welds sound like. As you are welding, it is important to pay attention to the sound of your stick welds. Soon, you will be able to determine if you have a quality weld.
This video shows SMAW in action and shares what it sounds like in a variety of situations: https://www.youtube.com/watch?v=akvv4ApYMVE.
---
Better Images. Better Decisions. Better Process Control.
Follow Xiris on social media for regular updates and welding videos!
Sources:
1http://gowelding.org/welding/stick-smaw/
2https://quizlet.com/125850644/welding-smaw-shielded-metal-arc-welding-flash-cards/
3https://www.millerwelds.com/resources/article-library/five-steps-to-improving-your-stick-welding-technique