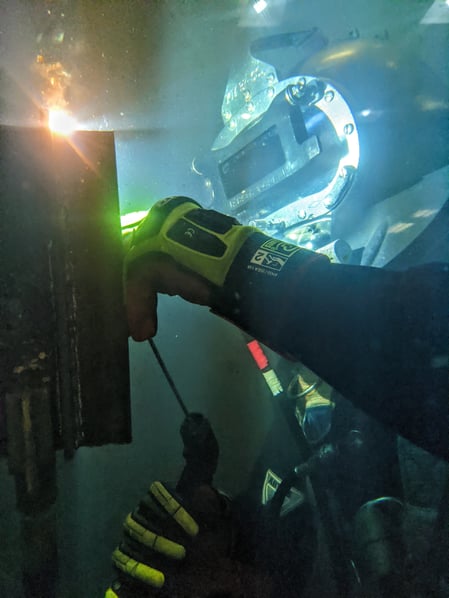 It's not often that you find a lot of information on underwater welding, and when you do it's typically only about the dangers of the job. Let us start out by saying that welding underwater is only one of the many jobs that a commercial diver may have to perform.
The official profession is commercial diving, and we recently had a conversation with Kendal Keating, certified commercial diver, Red Seal welder and welding inspector, to learn more about commercial diving and how he ended up in this career.
In a small town on a farm in New Brunswick, Keating had grown up around a nearby garage where welding and the trades had always been something that he was aware of, but never really considered for his future. It wasn't until his senior years of high school that Kendal had applied to a few trades programs as an alternative to his first plan of going to university for the sciences.
With a growing interest in the trades, and knowing he was good with his hands, Kendal says he decided "just in the spur of the moment, [to pursue] welding," after being accepted to both welding programs and the sciences. Kendal proceeded with a nine-month welding course at the New Brunswick Community College where it wasn't long before he "fell in love with the industry." [Click to Tweet]
He shares with us that he realized there is no limit to welding and you can continue to do something different every year. This was a key factor for Kendal as switching it up and always learning something new while continuing to stay relevant is something that he is very passionate about. Over the next few years, Kendal continued to earn many certifications and every year went back to school for two months at a time to complete the different program blocks that are required, before earning his Red Seal in 2017. With the experience he has in welding education, Kendal shares that not enough people understand everything that you do learn in these programs. From theory, physics, metallurgy, chemical reactions, what is happening in the arc and much more; many people don't realize "there's so much going on behind the scenes and now with [weld] cameras, there is so much you would learn from that." At Xiris, we have worked with many welding programs to do just that – help students and trainees visualize and understand everything that is happening in the weld process using weld camera technology.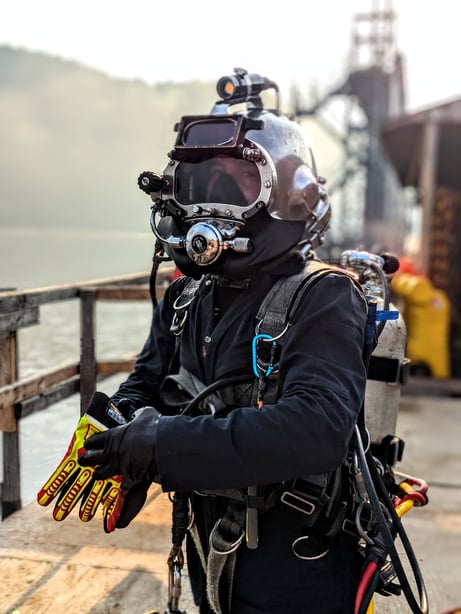 After finishing up school, while working jobs across Canada and learning from a mentor, Kendal was reminded occasionally, of a profession he had first heard of in high school: underwater welding.
He continued to progress in his welding career, however eventually felt as though he was reaching a stagnant point and needed to switch it up.
This is when Kendal began a deep dive into the path to pursuing commercial diving. Kendal applied and was accepted to Holland College in PEI for the commercial diving program and began doing his required scuba dives to become a PADI certified scuba diver. When Kendal started the commercial diving course, it came as somewhat of a surprise that he was the only student in the program with a Red Seal. While welding is not a requirement to become a commercial diver, Kendal "recommends anybody that wants to get into a commercial diving space... take a trade and get some type of trade experience." Kendal shares that "just knowing the different tools that are used or torque values.... having that experience on land can make it easier when learning underwater where you have to work in complete darkness and just by what you can feel." [Click to Tweet]
Here are some more facts:
Legally in Canada, to put a commercial diver in the water there must be a team of four people minimum: a supervisor, a tender, a diver and a standby diver.

Welding is just a very small part of what a commercial diver performs as they will do any type of trade work underwater.

The Diver Certification Board of Canada (DCBC) certificates are internationally recognized and can allow commercial divers to work in many different countries.

Commercial divers do NOT have to retire at a young age and a lot of divers could be at the pinnacle of their career at the age of 55-65 years old, so long as they keep their bodies in shape.

In Canada, commercial divers using tools must be surface supplied which is when the divers are fed air from the surface, through an umbilical cord connected to their helmets.
[Click to Tweet]
As for the risks of commercial diving, Kendal states that prospective students "shouldn't let the scary stories hold [them] back." While there are several dangers to the profession such as decompression sickness also known as "the bends," differential pressure also known as "Delta P," or the risk of an explosion from hydrogen build up, there is so much more safety precautions that go into a commercial dive to help prevent these risks. Kendal shares that the team will go through a full safety booklet and do numerous tests to ensure the conditions are safe and all equipment is performing as it should before sending a diver into the water. This is compared to more complacency when it comes to welding on the surface, which is why Kendal says he feels safe when commercial diving.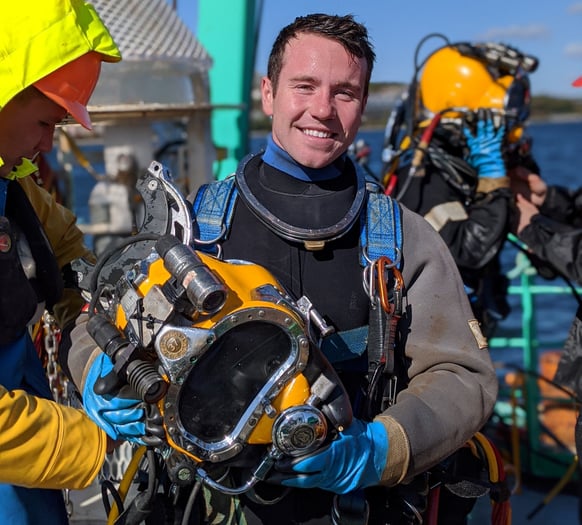 @kendalkeating4 on Instagram
So, for those interested in a career in the trades or commercial diving, we suggest you take Kendal as an example and test out the waters. There are so many opportunities for those in the trade to continue learning and push their careers further and as Kendal said to us, "you're going to get out what you put in." [Click to Tweet] This means, set your goals but also set your expectations to work hard and understand more than just striking an arc and you will continue to find rewarding work.
We would like to thank Kendal Keating for sharing his time and story with us that certainly inspired our team and we hope will ignite a spark for someone else.
---
Stay up to date by following us on social media or subscribing to the blog!