Over the past two years, our work environments have been upended and society has been forced to implement changes to adapt to COVID-19 restrictions. However, as we gradually emerge from this pandemic, these changes have appeared to reshape our work environments as they continue to stay for the long term. Some of the most drastic changes have come from within the education system. We had a chance to talk to Bobby Bland, an Instructor and Welding Program Coordinator at East Central College, to discuss how he has implemented our product, the XVC-1000 weld camera, in his welding class to limit the barriers faced by COVID-19 along with several other benefits.
For many welding students, the concept of "hands on learning" is a critical aspect to learning welding that helps them succeed in their field. With restrictions being placed on school environments, instructors were forced to view how they deliver education differently. Before using a weld camera, multiple students would typically gather around the instructor while a welding procedure was demonstrated. Now, with the use of a weld camera, Professor Bland shares that his students can "better visualize the weld in a close-up setting," leading for a "more efficient way for student learning."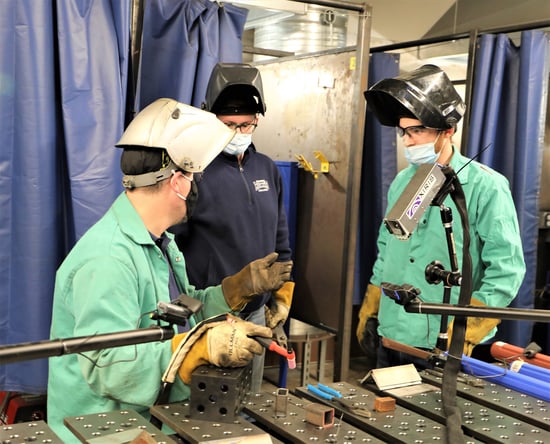 Welding Instructor Bobby Bland during one of his lessons at East Central College (Courtesy of East Central College).
The Xiris XVC-1000 Weld Camera delivers high contrast, high dynamic range images with a clear view of the brightest features of a welding torch tip while still being able to see the weld pool and surrounding darker background. Using Xiris WeldStudio™, users have access to enhanced imaging software tools that supply detailed process information of a variety of welding and laser processes. The software also allows for display, recording, and playback of clear views of the entire welding process, supplying a better classroom experience for both instructors and students.
Bland describes one of the key benefits of using a weld camera to be the immense amount of detail that can be captured of the weld process. After the instructor completes the weld demonstration, captured video of the weld process circulates amongst the students for the duration of the class. This new and enhanced process of learning has been a very effective tool for his students as they can now reference the video while working on creating their own version of the weld. Not only does Professor Bland see improved results from his students after implementing weld cameras in his classroom, but he also notes that the grading system has benefited as well.
Without using a weld camera, instructors must watch a student weld from behind a weld helmet, which can be difficult to see the entire weld environment to evaluate a student's technique. Now with the ability to have an "up close and personal approach" using a weld camera, instructors can playback and review the detail of each student's welding process, providing more accuracy when grading their work. Instructor Bland states, "it has advanced our education environment exponentially" and "the cameras are going to continue to change the future of the welding program."
Welding Instructor Bobby Bland performing a weld demonstration while using the
Xiris XVC-1000 camera
Xiris hopes to continue to eliminate the barriers that welding educators have been facing and work with more classrooms to empower students to succeed. We thank Professor Bland for working with us on this interview. If you are interested in learning more about Xiris' weld camera products, or have any questions about how cameras can be used in your classroom, request a consultation, or check out our most recent webinar Weld Cameras for Education and Training.
---
Stay up to date by following us on social media or subscribe to our blog!