With many students and instructors returning to the classroom for the back-to-school season, ready for a fresh start to the school year, we wanted to outline some of the many ways that weld cameras have been used to augment learning in welding programs.
Each year instructors and program leads look for new strategies and tools to bring to the welding classroom to enhance training and improve the student experience. More and more welding programs are turning to the implementation of new technology to keep pace with the interests and strengths of incoming generations of welders and where the industry is continuing to head.
Join us as we walk through exactly how Xiris weld cameras can be integrated into a welding program using real classroom examples.
1. Bring Clarity of the Weld to the Big Screen
An integral part to any weld program is the live demonstration of different welds and techniques performed by the experienced instructors. Typically, when an instructor is doing a live demonstration, students must crowd around the weld to try and see what is going on. An easy solution and one of the most common ways that weld cameras have been used in the welding classroom is to display live welding demonstrations performed by the instructor on a large TV screen.
This creates a more efficient use of space and allows any size group of students to all view the weld demonstration with even greater visualization of what is going on in the weld.
For some more ideas on how you could expand on this type of application
Keep the weld demonstration on a video loop throughout the lesson that day for students to refer back to

Display more than one weld at the same time to compare techniques and results
Take SAIT Polytechnic Institute in Alberta, Canada as an example. SAIT has implemented Xiris weld cameras into several of their programs including Welding Engineering Technology, Welding Apprenticeship Program and more. The weld cameras are set up to capture live welds and display them on several large screens throughout the welding lab. Lab technician and instructor, Michael Pittoors comments, "I have been trying for years to capture a live weld. The Xiris weld cameras have brought clarity of the weld directly to the students via large screens."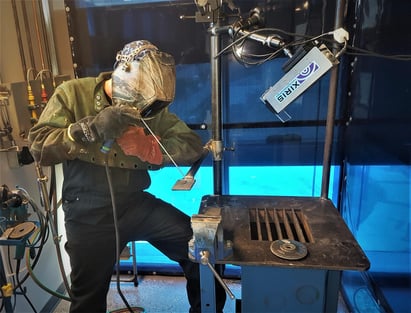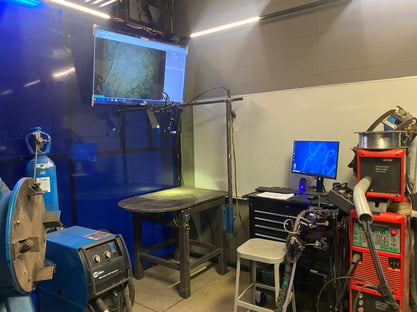 2
2. Create a Collaborative Environment
Many instructors can agree that creating a collaborative environment where students feel comfortable asking questions, accepting and understanding where a weld went wrong and building connections with peers in their field is essential. The thoughtful use of technology in the classroom can help shift from a more traditional teaching approach to a collaborative environment where students learn from social interaction, share their experiences and analysis of their own work and develop their critical thinking skills.
By allowing interested students to use a weld camera, instructors are opening the doors for open discussion and collaboration around what is happening in the weld, the errors, ways to improve and more. Liisa Pine Schoonmaker, a welding educator at Chabot College in California, USA, knows firsthand how Xiris weld cameras can be leveraged to create a more collaborative environment.
Both Liisa and her students use the weld camera when performing welds to watch and analyze what is happening in the weld, and as she says, to present a way for Liisa and her students to interact. In a collaborative environment, they learn to use each other as a resource which provides opportunities to share opinions and learn from one another.
Liisa and her students are continuing to explore the use of weld cameras in the classroom and adapt to the innovative technology as Liisa is confident "the technology is not going to go away and the fact that it is accessible to a school is going to become increasingly common."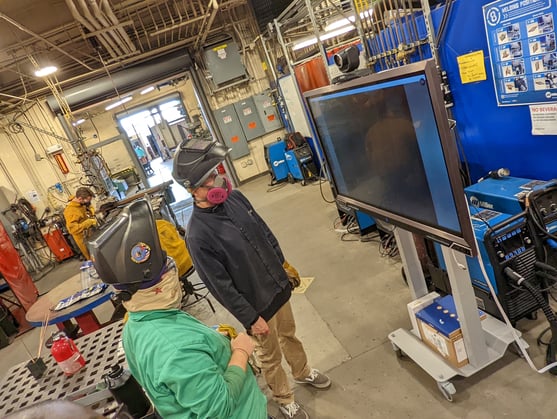 3. Improve Accuracy of Feedback for Students
Like any educational effort, it is important that weld instructors supply effective feedback that accurately reflects a student's performance. This feedback for students can help clarify what they need to improve on and can motivate them to do so.
Typically weld instructors must watch a student weld from behind a weld helmet, which can be difficult to visualize the entire weld environment and evaluate a student's technique. Professor Bobby Bland from East Central College in Missouri, USA, has discovered that his grading system has benefited significantly from the implementation of a weld camera. With the ability to get an up-close view of the weld using a weld camera, instructors can playback and review the detail of each student's welding process. Professor Bland states, "it has advanced our education environment exponentially" and "the cameras are going to continue to change the future of the welding program."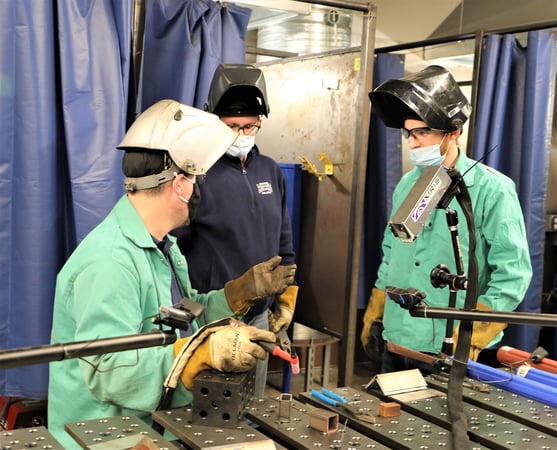 4. Provide Students with a New Perspective
Finally, one of the most significant ways in which weld cameras can be used to augment learning is providing students with a brand-new perspective of the weld process. Using Xiris weld cameras allows users to capture all the details of the weld such as the weld tip and arc, weld seam, weld pool, shielding gas, wire feed etc., with such clarity.
Mackenzi Johnston, a welding student with the University of Alberta and instructor at the Canadian Centre for Welding and Joining, has had the opportunity to explore welding from the perspective of a Xiris weld camera. She shares that she "never fully understood the nitty-gritty details of what was happening" when she welds. That was, until using the Xiris XVC-1000 Weld Camera in action on a weld process, where she states, "she gained another perspective of welding through added detail and clarity of the weld process."
| | |
| --- | --- |
| Mackenzi Johnston of the CCWJ demonstrating a GTAW corner joint. | View from the XVC-1000 Weld Camera, courtesy of the CCWJ. |
These real classroom examples are proof of the many ways Xiris weld cameras can be implemented into welding programs and training centers to provide effective lessons and enhanced student experiences.
To learn more about implementing a weld camera into your classroom, request to speak with our Education Expert.
---
Stay up to date by following us on social media or subscribe to our blog!