Thanks to new developments in electronics and sensor technology, fabricators can now use specially designed Weld Cameras to monitor the pipe or pressure-vessel cladding process with better clarity than ever before.
The higher-quality images of these Weld Cameras can provide numerous productivity, quality, and health and safety benefits to fabricators—as Xiris' president, Cameron Serles, will explain at Fabtech 2013 on Tuesday, Nov.19, 2013.
Serles and Rob Stewart of LJ Welding Automation will be discussing the use of Weld Cameras for pipe cladding as part of Fabtech's "Inspecting and Troubleshooting Welded Tube" education session. Several images and video clips of challenging pipe cladding applications will be shown, highlighting features of interest in the welding process and how they were successfully monitored using Xiris' advanced Weld Cameras, the Xiris XVC-O and XVC-S.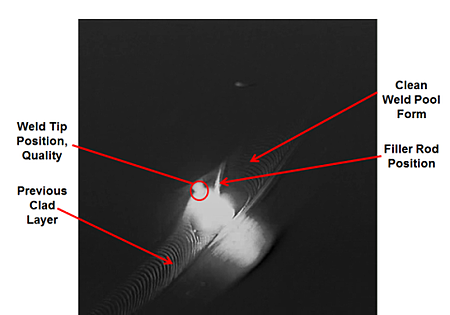 XVC-O Image of TIG Pipe Cladding
While Weld Cameras are highly valuable in many applications, pipe cladding stands out as an application where a Weld Camera is essential. Often performed in difficult or hazardous working conditions, the cladding process benefits greatly from an operator being able to remotely monitor it using a Weld Camera. The environment of the cladding process is often complicated by:
Restricted operating sizes, such as small-diameter pipe or pressure vessels.
Elevated working temperatures that could reach as high as 700°F.
The need to not only see the definition of the welding arc, but also the detail, position, and quality of the weld bead that is generated during the cladding process, as well as its position relative to a previous clad layer.
However, Weld Cameras have traditionally produced poor-quality images that hampered their effectiveness. Fortunately, that technological limitation has been overcome with better technology so that the best Weld Cameras can now provide images with a degree of quality that enables operators to make in-process adjustments that enhance productivity and quality.
As to be discussed in a case study as part of the Fabtech presentation, LJ Automation has used both the XVC-O and XVC-S in creating a high-volume, heavy wall double-jointing pipe system for offshore riser pipe fabrication.
For the pulsed MIG root pass, LJ used the XVC-O Weld Camera, which features High Dynamic Range imaging. This technology allows operators to clearly see all the details of the weld scene, including both the extremely bright region of the open arc and the much-darker background region, without saturation.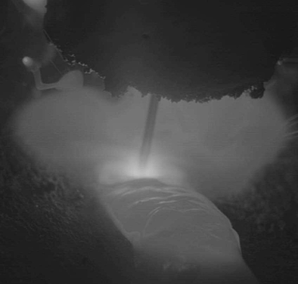 LJ System Seen Via XVC-O Weld Camera
For the Submerged Arc Weld fill, LJ used the XVC-S, a specially designed low-light Weld Camera that provides high-quality, color images of the dim environment of the SAW process.
LJ reports that its system tripled productivity on the case-study project, reducing cycle times from eight hours to less than three hours!
Conclusion
Weld Cameras with the latest technology can provide fabricators with numerous benefits in pipe cladding, including:
Greater visibility of the seam and other weld details.
Early detection of defects.
The capability for "on the fly" adjustments.
Increased arc "on-time."
Faster weld head set-up.
Improved safety and health.
A video record for troubleshooting, training, and process improvement.
Xiris is pleased to join LJ to discuss these benefits at Fabtech. If you're attending, we hope you'll attend the education session on Nov. 19 from 1:30 pm to 3:30 pm in room S405B, as well as stop by the Xiris exhibit at booth #N2217.
If you're not going to be at Fabtech, please call 905.331.6660 ext. 258 or email us at sales@xiris.com to set up a personal demonstration of a Xiris Weld Camera.