Training a new group of welding students can have a number of challenges for even the best instructors: getting all the students around the weld head to be able to see what is going on; a limited number of hours the instructor has available for actually performing the welding; how to see all the features of the weld arc as well as the background information, and how to make sure that all students are marked fairly and objectively.
When educating welding students, providing them with the ability to view the detail of the weld tip as well as the environment around the weld tip (such as the weld seam and weld pool) is important for them to learn all the parameters of the welding process. To overcome the visual monitoring challenges created by the presence of a very bright light source (the weld arc), as well as dark areas in the image (the background around the weld tip), a camera with a wide dynamic range of imaging is required. Reliable visualization of the environment around the weld tip is necessary to control and adjust the welding process found on most modern welding processes. In addition, the ability to record video and play it back to the students can provide multiple benefits for teaching and correcting welding techniques.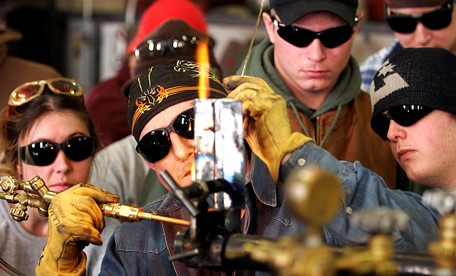 Image courtesy of Casper College
They Can't All See the Details….
New developments in electronics has led to the creation of a new type of camera that is able to accommodate the full range of light present at a weld head during welding, allowing welding to be taught in a way it has never been taught before!
By providing a good quality image of the weld tip and background, welding instructors and their students can remotely monitor a weld demonstration and record the results for off-line feedback. By using a camera to view the weld demonstration, the students can verify that the tip is in position and that all the welding inputs (welding wire, shielding gas, etc.) are being properly fed. Because the area around the weld demonstration is typically quite congested for class sizes more than a few students, using a camera mounted at the welding tip allows the students to clearly view the welding process remotely. The video can also be replayed back, off-line in the classroom for instruction, marking or review purposes.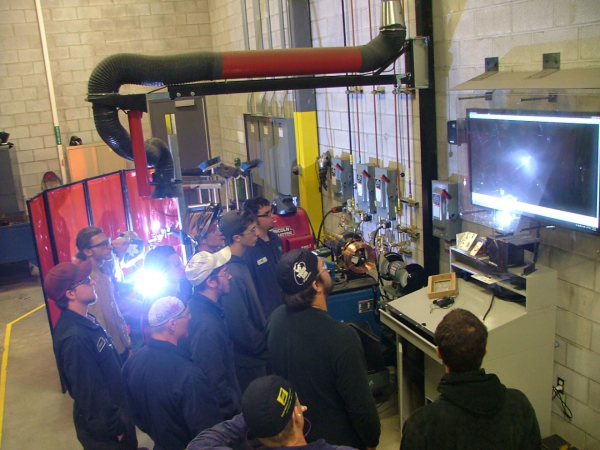 The Solution: a Xiris XVC-O View Camera for Teaching Welding
Conclusion
Using a View Cameras in the classroom to teach welding results in:
— A more Enjoyable Learning Experience for the Students
— Less Time Required to Achieve Results
— Reduced Material Consumption
— A Video Library of Standard Applications for Review / Consulting / Analysis
— Easier to Explain New Welding Techniques
— Better Support for Students' Technical Projects
— Research Tool
Join the growing number of Welding Educational Institutions who have added a Xiris XVC-O View Camera to their classrooms. Improve welding instruction and achieve the numerous benefits!
To read educator's personal testimonials below

For more information on how Xiris Weld Cameras can augment your welding education program, please visit Xiris.com
Sign up to receive our Weld Video of the Month