The large diameter pipe (LDP) market is usually defined as including all pipes and tubes that have a diameter larger than 12" (30 cm). The primary target market for LDP is the oil and gas sector, but uses have also been found in power generation, transportation, petrochemical, construction, and more. Since the 1950's, these pipes have been welded longitudinally using Electro-Resistive Welding (ERW). With the ERW's popularity growing over time, so have its technical advantages and efficiency benefits.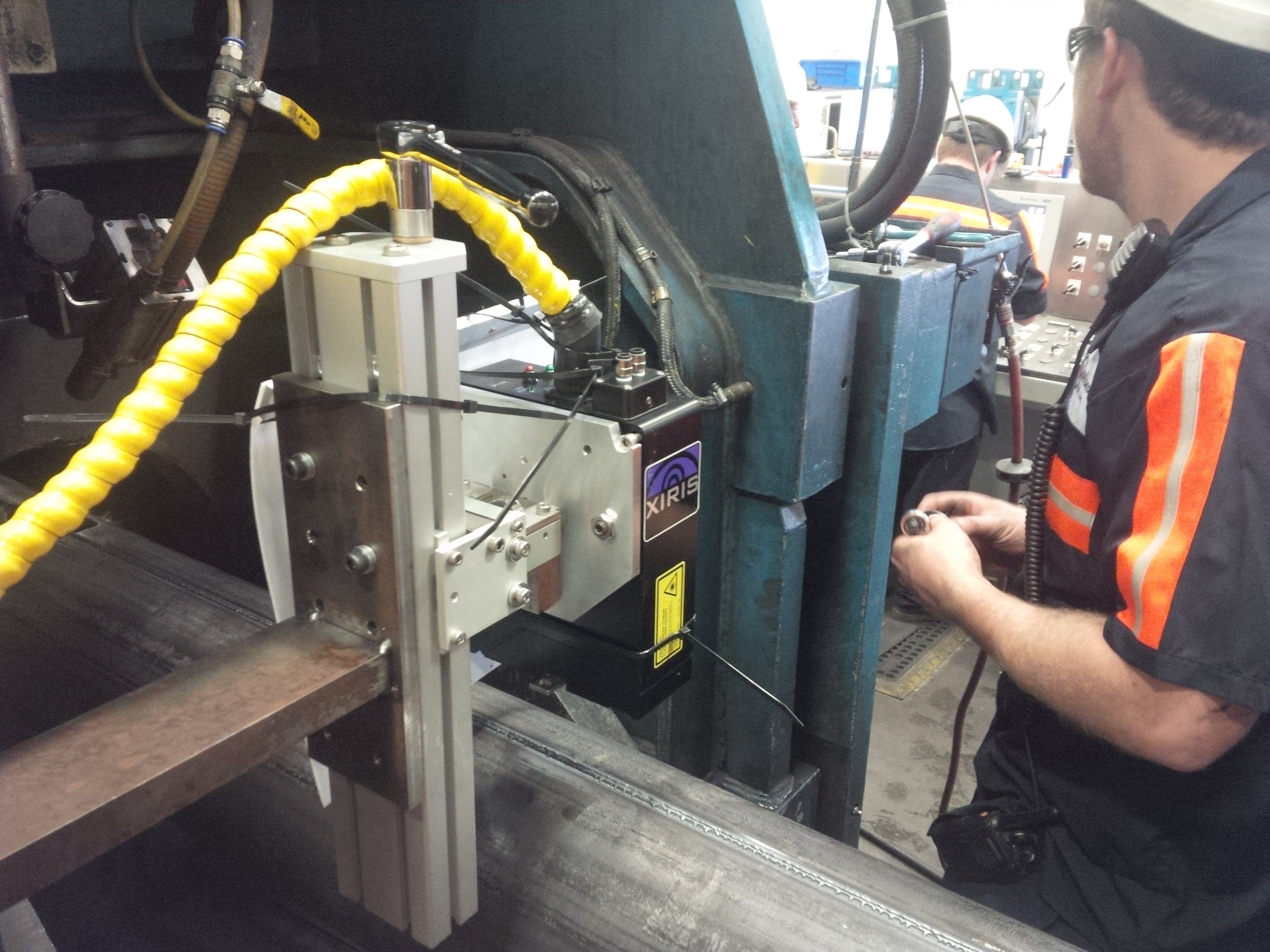 Xiris WI-3000 Weld Inspection System installed on a LDP mill.
Decades of improvements
The last few decades have seen significant improvements in almost all aspects of steel manufacturing – smelting, metallurgy and rolling. This has led to improvements in the size, quality, and physical and chemical properties of hot-rolled steel strip used for large and medium-caliber ERW steel pipes.
Other ERW process improvements include:
Automated control of welding parameters.

Implementation of industry standards such as ISO9000 and APIQI.
Automated detection technology improvements using online or offline full-weld ultrasonic or eddy current testing.
Computer supervised hydraulic testing.
Computer control of heat treatment and annealing (normalizing).
Over time, these improvements have allowed mill makers to build, and sell, larger ERW mills to handle larger diameter pipe products. Diameters up to 28" (711 mm) with wall thicknesses of 1" (25.4 mm) have been achieved recently, providing fabricators with the ability to enter new markets that have previously been served by other slower pipe manufacturing methods. In fact, this new capability has led some countries to prohibit the use of spiral-seam submerged arc welded pipes on long-distance oil and gas pipelines.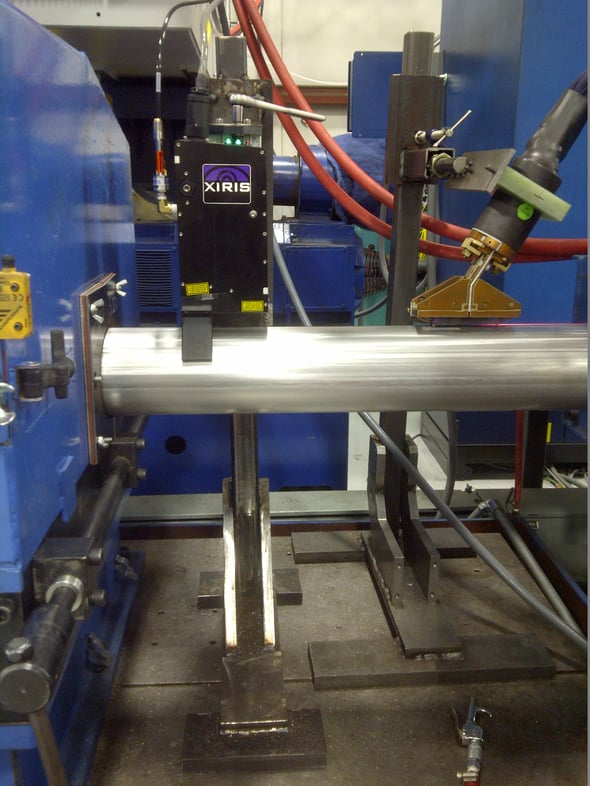 Xiris WI-2200 Weld Inspection System installed on a mid-sized tube mill.
Challenges and Benefits
Many LDP production lines cater to the oil and gas market, leading ERW LDP fabricators to face a number of special challenges:
Demanding Requirements:

API requirements are quite demanding; buyers expect zero defects in the pipe they purchase.

Push to Meet Market Needs:

Market demands continue to push fabricators to make pipe with greater wall thickness, making it harder and harder to control the forming process. This requires better quality design of the forming process, particularly the rollers.

Need for Speed:

Economic drivers always push for higher speed mills. Some of the world's largest diameter pipe mills using automated HF/ERW (300KHz) welding processes, with cage and breakdown roll forming, can operate at speeds of up to 45m/min.

Extreme Thickness Ratios:

Diameter/thickness ratios at both high and low extremes make for a more challenging fabrication processes – contributing to forming related defects.

Challenging Edge Forming:

Properly preparing the strip edge of thicker raw steel roll to allow it to be properly formed in an ERW welding process requires extra effort and control.

Difficult Defect Control:

Various weld quality defects such as Seam Gap, Mismatch and Freeze Line become more significant and difficult to control with LDP.

Higher Cost:

Because LDP material costs are greater compared to smaller tube production, any scrapped material can be very costly for the fabricator.

Strict Testing Protocols

: Meeting all the testing protocols for API standards can be quite difficult. Ultrasonic (UT), Eddy Current (ECT) and Pressure Testing (PT) can be complex to interpret, requiring expert technical staff with significant experience - something very difficult to find and retain.
But along with these challenges, come benefits:
Faster Processing:

ERW mills provide a much faster mill processing speed versus other pipe welding methods.

Real-Time Monitoring:

ERW for LDP is a long, multi-stage fabrication process. Best-in-class-mills implement real-time monitoring at early stages in the mill to identify and correct defects as soon as possible, leading to higher efficiency and improved yields.

Boosted Profit:

When mills operate at higher speed, with higher yields and quality, this can lead to a significant boost in plant profit margins.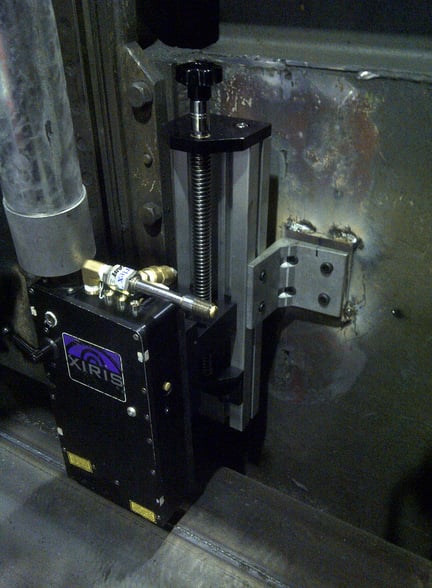 Xiris WI-2200 Weld Inspection System installed on a LDP mill.
Early, Real-time Process Monitoring
In the search for earlier process fault detection to lessen reject rates, progressive pipe and tube mill owners have begun looking to higher technologies. A popular solution is by using real-time weld bead and pipe geometry defect detection system, such as the Xiris WI-3000, that uses laser triangulation techniques and is located immediately after the ERW weld box. The system's large sensor field of view makes it ideal for many LDP welding processes.
These smart sensors act as an intuitive early warning system to line operators who can be alerted when processes are moving out of control and can make adjustments to the mill before the process makes defective product. Although next-generation sensor solutions such as the WI-3000 are not a replacement for standard Non-Destructive Testing (NDT) systems, they complement them, detecting process variations and flaws that might otherwise be overlooked.
Pipe and tube manufacturers, driven by quality and profitability goals, continue to seek out sensors and process monitoring solutions that integrate with their systems and improve their processes. To learn more about how Xiris' laser inspection systems can help, visit xiris.com/weld-inspection-systems or speak with our product experts.
---
Stay up to date by following us on social media or subscribe to our blog!