Over the past few months, we have discussed the numerous ways that weld cameras improve productivity. First, we talked about increased health and safety for weld operators when using a weld camera. Following that, we discussed better monitoring and operational productivity from real time verification that can lead to reduced errors and cut costs. In our most recent post, we examined reduced set up time and increased run time productivity that leads to improved arc on-time.
Today, we are going to talk about the remaining ways that make up the 8 ways weld cameras improve productivity. This includes recorded video of the weld that allows for off-line analysis and troubleshooting.
Video recording is one of the most important benefits of a Weld Camera. Integrating a weld camera into a weld process allows for capture of live video of the welding operation which can then be recorded, stored and reviewed off-line for quality assurance monitoring. This is ideal for training as students or new welders are able to observe a weld process done by an instructor or experienced welder live or play it back in a classroom setting for review and analysis.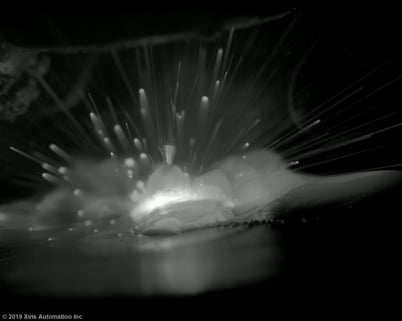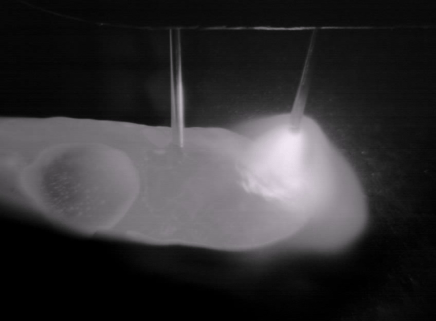 Images of a GMAW process captured using a Xiris Weld Camera.
Not only is it a good training tool, but the recording feature is excellent for process verification and improvement where analysis can be done off-line to determine what was working during the weld process and what was not. A weld camera also allows an operator to identify the source of problems in the weld process such as impurities in the parent material, component misalignment, improper amount of shielding gas, or improper geometry of the keyhole or weld pool. The weld camera will help to identify in off-line analysis what might be the most likely cause of the problems, ensuring that the solutions are effective at restoring the welding process to its ideal state.
The Xiris high dynamic range weld cameras allow the weld process to be seen like never before. This results in a multitude of benefits that lead to improved productivity as we have discussed. If you have any questions about integrating a weld camera into your weld process, or would like to learn more, request to speak with one of our experts.
Check out our previous blogs on the 8 ways weld cameras improve productivity...
#1 Increased Health and Safety
#2 Reduce Errors and Cut Costs
Stay up to date by following us on social media or subscribe to our blog!