Cladding material on to the inside surface of a pipe requires movement of the torch head relative to the pipe surface. This is done by either rotating the pipe, keeping the welding torch stationary, or by rotating the welding torch and keeping the pipe stationary. For longer sections of pipe, or for pipe that has already had a number of sections welded together, moving the pipe itself is not always practical. Instead, the weld torch must be rotated to perform the cladding operation.
To remotely monitor the cladding process, a weld camera can be mounted next to the weld torch, allowing operators to detect defects in the cladding process while they are happening and respond immediately with positional adjustments or even by tweaking the material inputs to the optimize the clad. While it is not too difficult when the torch remains stationary, it is more of a challenge when the torch has to rotate through many rotations to complete the cladding operation.
To solve this problem, the Xiris XVC-1000 and XVC-1000e weld cameras were integrated and successfully tested on a slip ring to transmit the power and electrical signals from the camera inside the pipe to an external computer. A slip ring is an electromechanical device that allows the transmission of power and electrical signals from a stationary device such as the external computer to a rotating device – the weld camera inside the pipe.
With the successful testing of the video transmission by slip ring, it is now possible to equip cladding machines that have rotating torches or carriages with a weld camera. This provides much better process monitoring in ways that were not possible previously as operators were forced to watch the cladding through a welding shield or helmet, trying to follow the arc around in circles as best as they could.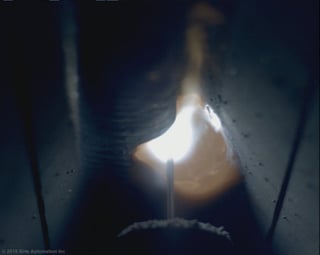 The View from a Weld Camera as Transmitted over a Slip-Ring