In this blog, we are continuing our series What Does Welding Sound Like. So far, we have covered the benefits of adding audio to your weld camera, and the sounds of GMAW. Today we are investigating sound in GTAW/TIG welding.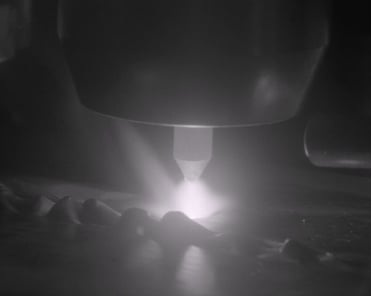 GTAW is typically characterized by a high-pitched hum or buzz.1 The polarity of the electrical current—whether it's AC or DC—affects sound in TIG. AC TIG is much louder than DC. As amperage increases, welding noise will also increase.2
At lower frequencies, you will hear a slow pulse sound as you weld. One operator described it as "Braaap, Braaap, Braaap." As the power frequency increases, such as to 80-90 hz, the sound becomes "sharper:" "BRAP, BRAP." With the frequency between 100-120 hz, the "brap" sound becomes a whine. At this point, the arc is moving much more quickly, going from positive to negative hundreds of times a second.2
As in GMAW, sound in GTAW can alert operators to mistakes or faults in their welding. For example, a torch-to-workpiece angle greater than 20-25 degrees may cause a popping sound as well as poor weld quality.3 A high pitched buzzing sound can signify lower penetration of the heat into the parent material.4
An important consideration in monitoring sound in welding is the environment that you're working in. Each shop or factory has its own unique acoustics. Some frequencies may echo and welding machines can seem very loud or sound different depending on where they're located.
For this reason, it is important to spend time assessing your welds, monitoring your equipment and learning what a good weld sounds like in your facility.
Watch a video of welding aluminum with GTAW, and how the frequency settings change the sound.
Download our webinar Improving Welding Automation Using Audio Monitoring to learn more about monitoring your weld processes with audio.
---
Better Images. Better Decisions. Better Process Control.
Follow Xiris on social media for regular updates and welding videos!
Sources:
1https://weldtalk.hobartwelders.com/forum/weld-talk-topic-archive/welding-processes/12469-a-few-questions-on-tig
2https://weldingweb.com/showthread.php?23153-AC-TIG-Aluminum-Noise
3https://forum.millerwelds.com/forum/welding-discussions/3973-sound-of-tig-welding
4https://www.youtube.com/watch?v=XzsfBV6_vNY