Submerged Arc Welding (SAW) is a common welding process used in a variety of applications pipe and pipeline fabrication. In many applications, pipe is tack welded together to hold the pipe in shape, then submerged arc welded from the outside using a continuous process such as on a spiral welded pipe mill, or in butt joining pipe segments using an orbital welding process. Many of these applications have a very confined or awkward working environment that makes it difficult, if not impossible, for a human to observe the weld process in a production environment.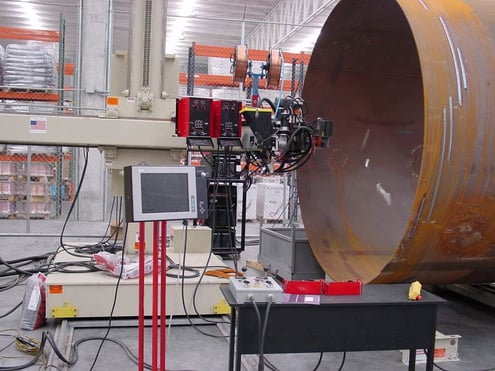 An XVC-S Mounted to a Column and Boom Robot Performing Welding and
Cladding on Large Pipes
In any such welding work environment, whether it be the confined space of a pipe welding application or a high-height welding application such as in large pressure vessel construction, operator safety is always a priority. In the welding industry, workforce demands, government regulations, changing business practices, and increasing environmental awareness are driving the manufacturing environment to be safer, healthier, and friendlier for workers. As a result, the use of camera technology is becoming more prevalent in order to alleviate some of the dangers and liabilities.
While the welding environment is particularly harsh on electronics, the Xiris XVC-S cameras for Sub-Arc welding applications have proven to be very durable and reliable in some of the toughest environments. The XVC-S cameras have been used in hot, confined spaces to provide a clear view of the submerged arc weld torch and its alignment to the weld seam, or in a post-weld application to inspect the weld as the slag comes off the weld bead. The cameras allow the operator to remotely view and manage the welding process by providing the ability to adjust the weld process real-time, ultimately reducing potential subsequent rework. For the fabricator, this means saving time and money with less machine stops and more on-arc time.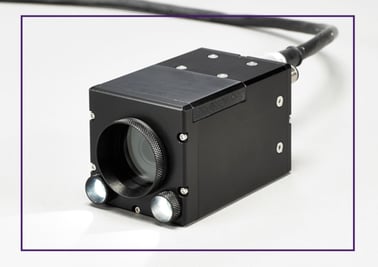 The View of the Sub Arc Welding Process Using an XVC-S Camera
But the benefits of the XVC-S are not just financial: since the XVC-S submerged arc weld camera allows the welding processes to be viewed remotely, operators can monitor the welding process from the comfort of a process control cabinet as the cameras are placed at the weld head. As a result, welders are no longer required to work in cramped, uncomfortable places or dangerous heights, reducing fatigue and safety issues.
With clearly demonstrated financial benefits from cost savings and improved health and safety considerations, the business case for implementing an XVC-S camera is straightforward. Don't you think it's worth looking into a camera for your sub arc business? Learn more about the XVC-S camera and download the FREE Datasheet for more details. If you have any questions, please do not hesitate to contact us.