Submerged Arc Welding (SAW) processes are typically run as automatic or semi-automatic processes with automatic flux feed delivery systems. The automation of a sub arc welding process provides the fabricator with a number of distinctive advantages, such as higher quality, higher capacity, and of course much higher productivity in the fabrication process.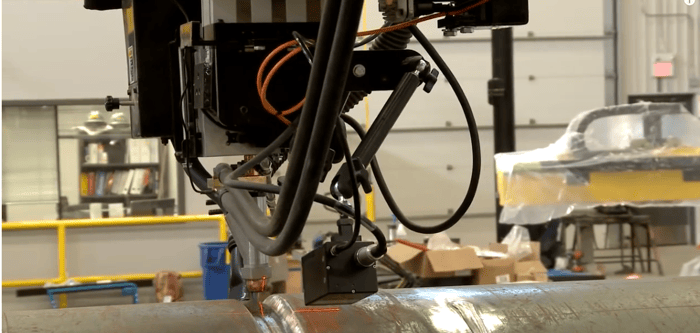 Automatic sub arc welding can be accomplished by moving the work piece underneath the weld head or moving the weld head over a stationary work piece. However, no matter how much of the process is automated, it is still important for the operator to have visibility of the welding process and see the parameters of the weld (such as wire feed speed, arc current and voltage, travel speed, and wire stick-out) to ensure that the weld process is running efficiently enough.
If any parameter does go out of control, it is important for the operator to be able to see the process so as to make adjustments before the weld quality deteriorates.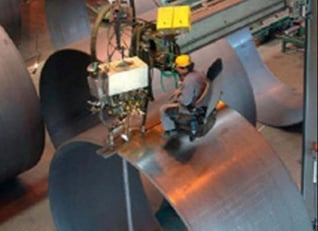 Traditionally, the welding operator has had to be stationed near the weld head to be able to adequately see and manipulate the weld head. However, this close proximity to the weld head often puts the operator at risk and/or in extreme discomfort. This is due to commonly occurring conditions such as:
The operator has to sit high over ground to monitor a welded pressure vessel or assembly.
The operator has to work with restricted freedom of movement, which may include kneeling or sitting in a cramped space, such as inside a small diameter pressure vessel.
Conductive elements are present with which the welder may make accidental contact during the welding process, causing potential electrical shock.
The operator has to monitor the weld in wet, damp, or humid conditions, which reduce the skin resistance of the body and the insulating properties of accessories, causing additional potential of shock.
In all of these situations, health risks to the operator can be avoided by removing the operator from the immediate area of the weld environment. This can be accomplished using a Xiris XVC-S Sub Arc Camera. With the use of such a camera, the operator can monitor the progress of the sub arc weld from up to 40 meters away.
The benefits of using the XVC-S? For the fabricator, easier compliance with an ever-increasing set of regulatory guidelines that limit how and when operators can access the weld area. For the operator, higher productivity by avoiding the distractions caused by the hazards of the immediate vicinity of the sub arc weld area.
Conclusion
Automatic or semi-automatic submerged arc welding requires in-process operator monitoring of the weld, which can best be achieved with a Weld Camera—freeing the operator from the health risks of direct proximity to the weld.
---
Stay up to date by following us on social media or subscribing to the blog!
Image courtesy of ESAB.