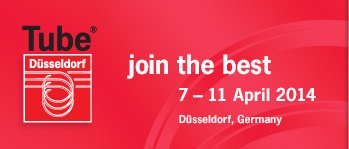 Xiris is in the final stages of preparation for next week's Tube 2014 in Düsseldof, Germany, running from April 7 - 11.
Tube Düsseldorf is a leading trade fair for the global tube industry presenting a unique opportunity to meet with international visitors, decision makers and market leaders. And if the numbers from 2012 are any indication, we will be very busy! The 2012 Tube show saw over 4,659 visitors who came to investigate more than 1,178 exhibitors from 48 countries in 48,477 sq.m of exhibition space!
Xiris' WI2000p, laser-based post weld inspection system, and our XVC-O, weld camera for Open Arc welding, will be on display in our partner's booth - Magnetic Analysis Corporation, Hall 06, Stand G40.
We're not only excited about demonstrating our products for the tube industry in this prestigious setting; we're looking forward to meeting the innovative people and seeing the groundbreaking technology from other pioneering companies across the world.
If you're going to be at Tube Düsseldorf, please visit booth Hall 6.0, Stand G40 there you'll be able to see demonstrations the WI2000p as well as the XVC-O Weld Camera.
Better yet, please email us at sales@xiris.com to set up a personal product demonstration.
With over 2,400 of exhibitors registered, it's a popular show, so there's a good chance many of you are planning to attend, for the same good reasons we are. We know that it means you care about leading-edge technology.
Hope to see you in Düsseldorf, Germany!