Technical trade schools and welding education programs are not new to post-secondary institutions, but as organizations see an increase in admissions, there is also a noticeable increase in demand for equipment. This is not only to appease the quantity of new students, but also to ensure safety and efficiency in the curriculums. The most appealing program to a student will have experienced and knowledgeable professors, interesting and extensive material, as well as modern equipment. However, even with all of these tools there are still some major factors that all of these institutions face:
The booths to demonstrate and instruct welding are too small for more than just a few students at a time

The instruction area has inadequate space for the number of students registered in the program

The welding consumables budget is insufficient and will not cover the cost for new equipment
When instructing such a unique trade, it is important that students not only understand what is being taught, but can see the demonstration. Being able to see and understand what is occurring with a weld tip and arc, as well as the environment around it (weld seam, weld pool, shielding gas, and wire feed) are all essential elements to understanding the welding process. Without a grasp on these elements and factors, there is little that can be retained by the student. This is all based on a visual demonstration that can be hard to provide in many welding institution settings.
As technology and equipment advance, the ability to record lessons and welds adds an immense benefit to both students and instructors. Students can learn more outside of the classroom, as well as retain and digest all of the important elements of the lesson using video playback. This can be provided through the addition of weld cameras.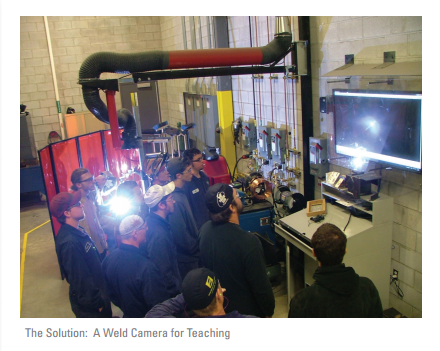 Not any camera can be placed in such a hostile environment, and expected to function normally. Therefore, more research and development has been contributed to constructing a small, clear, and functional camera that can withstand this environment, and provide the best image quality. Xiris Automation Inc. has created such a camera, called the XVC-O (Xiris View Camera for Open Arc Welding). This allows video recording, clear images, storing/saving capabilities, as well as better classroom visuals for welding programs. This live weld feed can be attached to a simple monitor (as demonstrated above), or even a full size projector, and still provide a clear, comprehensive view of all elements. Xiris has also developed a version for submerged arc welding.
Local colleges, such as Conestoga College, have added this kind of technology to their budding trades programs. As the Government of Canada announced this May, they are investing $2.3 million over the next five years towards Conestoga College's new Centre for Smart Manufacturing establishment. Already using the XVC-O, these improvements have allowed Conestoga to become an extremely competitive College in the area, and one of the most competitive for the welding trade school industry. Other institutions, such as NAIT (Northern Alberta Institute of Technology) have also added systems to their curriculum and have noticed great improvements. NAIT's Chair of Welding Programs, Chris Manning says "by displaying the captured welding video on a remote screen, the instructors can vastly improve the learning experience of their students, with improved learning success, which is always the instructor's goal".
For more information about how welding cameras can assist welding education please visit www.xiris.com.