The welding environment has very dangerous elements; one that has been scrutinized recently is welding smoke. Although there is an abundance of protective equipment and proactive measures taken, there are still some very hazardous exposures that can occur.
According to the American Federation of State, County and Municipal Employees (AFSCME), welding smoke is a "mixture of very fine particles (fumes) and gases". This is a known fact of the trade, and every employee and professional knows the risk one accepts when they weld. However, as more long term studies are completed, there are some seemingly minor details that can contribute to very serious health conditions caused by welding. Most fumes and smoke is produced when using arc welding, due to the high heat involved.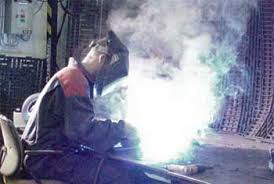 Welding fumes and gases form from the base or filter material, any coatings present, shielding gases, any contaminants in the air, and chemical reactions from arc ultraviolet light and heat. However, these are all very important elements that must be monitored not only for the quality of the weld, but the safety of the employee.
There has been a large amount of studies concerning welding and its relation to Parkinson's disease. This is a neurological disorder that damages brain cells in the midbrain. These studies have analyzed environmental factors that could be the cause, and have determined that welders develop Parkinson's at a higher rate than others. This elevated rate has been related to a direct exposure to manganese welding fumes but no definitive results have been found.
With the addition of a welding camera, such injuries and health concerns can be avoided. Welding cameras, such as the XVC-O promote weld efficiency, quality products, as well as the safety of all employees and operators.
To read more about these health concerns and studies follow this link.
To learn more about the efficiency of weld cameras and the numerous benefits please visit our website.