Xiris Automation participates in many international trade shows. Our products have immense value across a number of markets, including welding, where we present our XVC-O Weld Camera to the Weld industry. With video demonstrations and expert explanations about how our weld camera can improve weld monitoring, trade shows are hugely beneficial to customer understanding of this technology.
Partnering with one of our large OEMs, ESAB Welding & Cutting Products, Xiris was privileged to exhibit the XVC-O Weld Camera for Open Arc welding processes. ESAB was one of only two major welding automation companies exhibiting at the International Manufacturing Technology Show. IMTS is one of the largest industrial trade shows in the world, featuring more than 2,000 exhibiting companies and 114,140 registrants.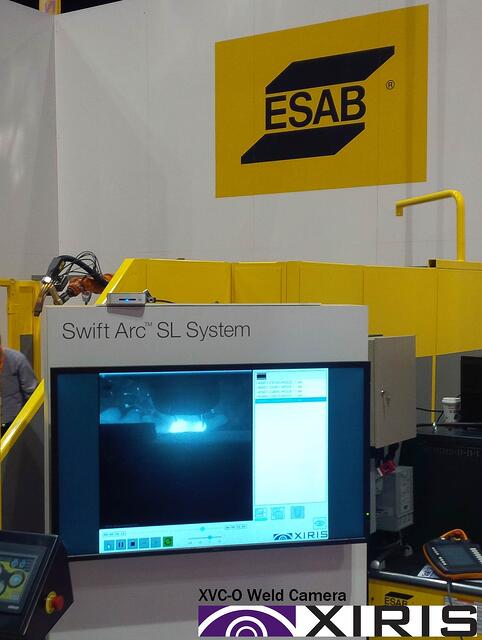 ESAB showcased their pre-engineered robotic welding cell using a new tandem MIG welding process called Swift Arc LS. Xiris assisted with the ESAB exhibit by providing the Xiris XVC-O Weld Camera to demonstrate how the operator could view the welding process remotely. The weld camera was mounted on the robot and travelled with the weld torch to provide visitors a clear, live view of the weld arc. Xiris also demonstrated a live weld feed for visitors to see the software and dashboard view of the system (demonstrated above).
This is one of the many trade shows Xiris has attended this year, and will be attending many more! Watch for us at the Sheet Metal Welding Conference in Michigan, US, FabTech in Atlanta, Ga, US and the 5th Welding Busan Exhibition in Korea this November.


To learn about all of our events and tradeshows please visit our website and be sure to subscribe to our blog.