Xiris Weld Cameras are well known to enable operators to remotely view and monitor open welding processes, improving health, safety and productivity. These cameras use a specialized 140+ dB High Dynamic Range (HDR) sensor that is able to image all welding or metal additive processes without additional illumination, delivering clear detail of the weld arc, melt pool and surrounding background.
| | | | |
| --- | --- | --- | --- |
| GTAW/TIG | GMAW/MIG | Plasma | Laser |
Weld Cameras Uses and Features
The advantages of using weld cameras with such an enormous dynamic range includes the following:
Provides images of the welding process that are clearer, but similar, than what operators would see though their welding helmets, providing an easy transition from one process to another.

No hazardous laser illumination is needed to create a good image.

Compact sizes and standard optics mean the cameras can be used in tight spaces.

Setup is quick, not dependent on process type or use of special light sources.

High contrast around the melt pool is preserved so that important details are highlighted.
One drawback of using such HDR cameras is that in imaging certain welding processes, the background area may appear darker than desired. In most cases, this can be resolved by adjusting the aperture or using Gamma control in the software to brighten the background.
The images below of a GMAW and shows the difference Gamma control can make.
| | |
| --- | --- |
| No Illumination, with Gamma at 0 | No Illumination, with Gamma at -3 |
For some applications however, it may be beneficial to add additional illumination to see more of the background, parent material or deposited bead, more clearly. This is especially true if the process is small relative to the entire Field of View (FOV). The images below show the difference with and without auxiliary illumination on a GMAW process:
Without added illumination

,

with Gamma



With

Xiris

XL

-

30 Illumination and Larger FOV
Another good example of this is in laser wire DED applications, where the laser spot is very small compared to the field of view and seeing more of the background than just the area around the power source is useful for operators to better monitor the overall build process. The images below are of a wire laser additive manufacturing process (WLAM):
Wire Melt Process without additional lighting




Wire Melt Process with XL-30

illumination
Here is an example of the Wire Melt Process seen in the above images.
Introducing the XL-30 Illumination Kit
To address this, Xiris has developed a powerful light source that can be used to help illuminate the background of certain welding and AM processes. The light source developed, the Xiris XL-30, can generate over 30,000 Lux of light power to help provide background lighting for certain welding applications.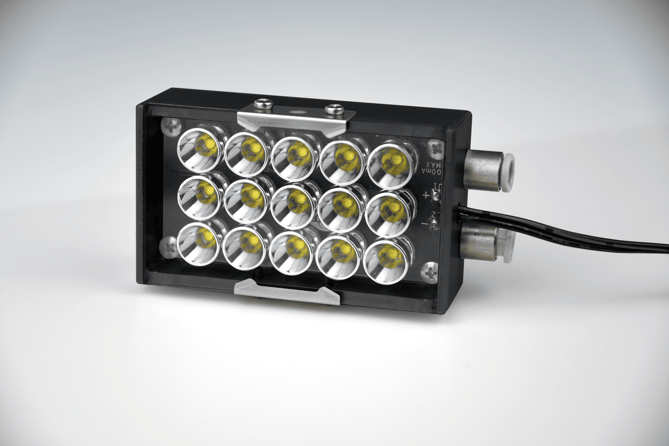 The Xiris XL-30 is a high-power LED illumination kit that can be used with any Xiris XVC weld camera.
Features of the Xiris XL-30 Illumination Kit include:
Use of standard white LEDs that are safe to use in any application.

Compatible with all Xiris weld cameras, both color and monochrome.

Can be positioned to highlight the most important background features, either before or after the torch.

Ideal for both setup and/or during welding.

Easy integration with existing Xiris camera systems

Has an integrated cooling circuit and replaceable spatter window, suitable for use in harsh welding and additive manufacturing environments.
Xiris weld cameras can offer welding operators very clear images of the weld arc and surrounding features. However, in some applications where the weld arc is very small relative to the entire image size, extra lighting such as the XL-30 can be used to enhance certain features from the background for better viewing by the operator.
To learn more about the Xiris XL-30, request a copy of the datasheet here or contact one of our product experts.
---
Stay up to date by following us on social media or subscribe to our blog!