Selling over great distances is never easy. Even if the customer knows about you, often equipment needs to be demonstrated to plant personnel before a decision can be made.
That was the case when Cinter S.A. of Montevideo, Uruguay contacted Xiris with a problem. They had several stainless steel tube mills that were being laser welded and they had abnormally high scrap rates. They had tried many different improvements on their mills to bring the scrap rate down, with limited success. They searched the market for a solution, contacting Xiris to see if the WI2000p Weld Inspection system would help them solve some of their quality issues.
But first they wanted to see a demonstration……
So, we packed up a system and shipped it to Uruguay, following on a promise by the customer that if the system meets their needs, they will buy it outright. A long flight to Montevideo was booked and the passage made. A system was installed on a Laser tube mill that would normally make stainless steel tubing with 50-100 mm diameter tubes. Within hours, the customer was able to notice a number of benefits: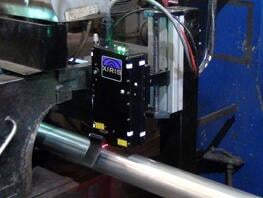 Benefit #1: Faster Set Up
The first thing they noticed was how much faster it was to set up their mill after a changeover. Once the mill had been set up for a new product and material started to run, the operator would monitor the WI2000 system for Mismatch, Roll and Bead Height, adjusting a number of parameters until the measurements fell within specification. Set up time was cut down significantly, producing less scrap.
Benefit #2: Wear Detection on Roller Tools

The second thing they noticed was how certain measurements such as Deflection would vary on a cyclical basis. The amount of deflection would rise and fall periodically, indicating an inconsistency in the tooling. It was discovered that wear of the forming rollers would cause some of this variance. By replacing the rollers when the deflection got really bad, scrap could be reduced or avoided entirely when the deflection went out of specification.
Benefit #3: Reduce Tube Twisting
The third thing they noticed was how the tube would roll back and forth based on how well adjusted the forming and handling equipment was. If the tube rolled too far in one direction, the seam could move out of the path of the Bead Removal Tool (Scarf, or grinding process) downsteam of the tube mill, causing scrap material.
Conclusion
The resulting cost savings benefits derived from reduced final product scrap, faster product set up times and fewer customer returns allowed the customer a payback of less than one year. They were so happy with the system that they are looking to equip a number of their other mills with the same equipment in the year ahead.