Weld and thermal cameras have been extensively used in critical welding applications, not only to enhance operator safety but also to allow for remote process monitoring.
The use of these cameras in metal additive manufacturing (AM) processes has similarly become an integral part of the process, providing real-time feedback to help adjust the process as necessary.
While weld and thermal cameras that can be remotely monitored are available in various forms, using cameras that can connect to a PC offers various advantages, including:
Enhanced image processing

Recording and playback capabilities

Machine vision tools for real-time measurements.

Integration into other control systems.

Automated setup

.

Recording and data collection.

Real Time video streaming.
The significance of selecting the right PC or HMI cannot be overstated in terms of ensuring the reliability and performance of the system.
Choosing the wrong PC could mean that the benefits of using cameras are not maximized, and the operator may be unable to adjust the process when required.
Therefore, it is crucial to consider the following questions when selecting a PC or HMI: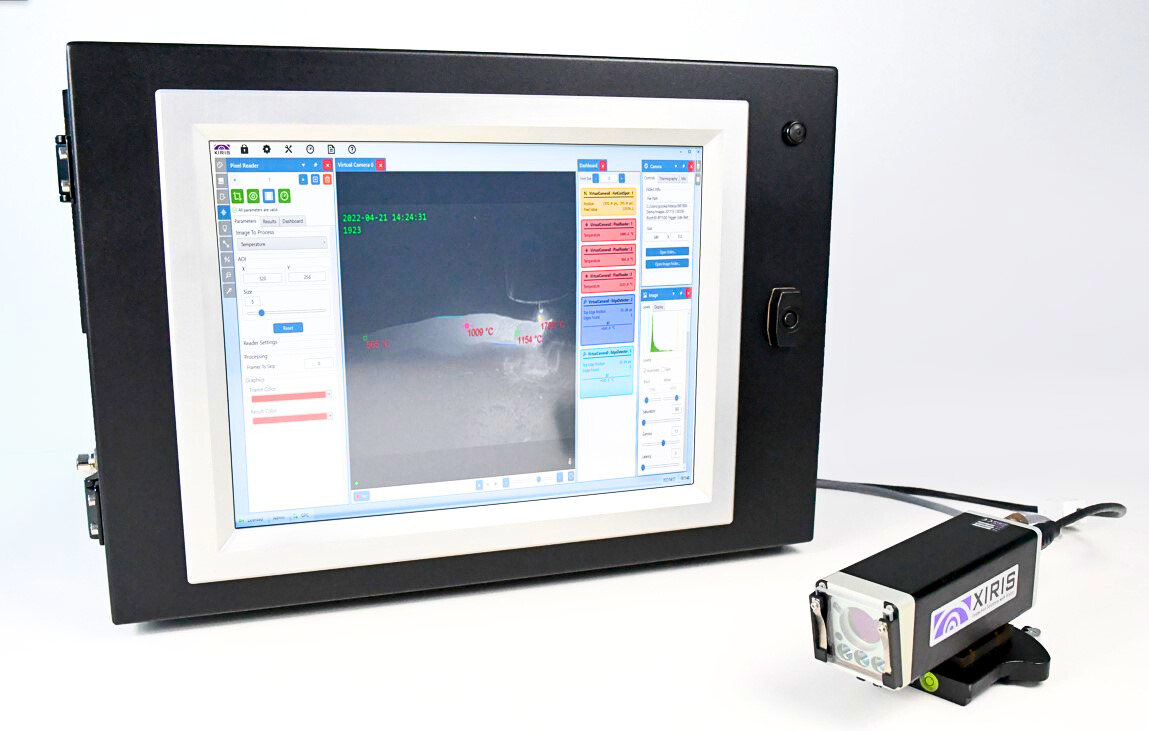 Xiris HMI for Welding
1. How many cameras does the system use, and what are their types?
2. What is the intended use of the cameras - remote monitoring by people (30fps is sufficient) or automated systems (fast processes may need +50fps)?
3. Where is the information and display required – is it an operator station local to processes (which can be a dirty environment and a touchscreen interface is needed so an HMI is useful), or a control room (a cleaner environment where a keyboard can be used), or a need for portability to move between applications (where a tablet is best used)?
4. What is the environmental condition of the PC - will it be exposed to metal dust?
5. What other interfaces are required, such as screens, WeldMic, dedicated camera connections, Ethernet, USB ports, keyboard, mouse, memory stick, and software and hardware interfaces?
Answering these questions will aid in selecting the appropriate PC or HMI, ensuring that it can handle the workload and provide the necessary functionality. A Industrial Fanless PC is a viable option however if there is exposure to significant metal dust, a Rugged Xiris HMI is preferable.
Com

pact Industrial Fanless PC

Tablet-HMI
To maximize the benefits of using cameras in welding and AM processes, choosing the appropriate PC or HMI is crucial. By selecting the right one, you can enhance the safety and efficiency of your operations, collect critical data, and integrate your systems into an Industry 4.0-ready framework.
To learn more about the ideal PC or HMI for your welding and additive manufacturing needs, download our overview document for fanless PC and HMI options.
Contact us today to learn more about our products and services.
Stay up to date by following us on social media or subscribe to our blog!