In a fast-changing world, we're accustomed to always look ahead and be prepared for what's to come, making it difficult to sometimes look into the past and reflect on our accomplishments. 2020 has certainly been a challenging, unexpected year, which is why we wanted to take the time to look back at Xiris over the years and all that we have achieved.
About Xiris
Founded in 1989 and headquartered in Burlington, Ontario, Xiris Automation Inc. develops and sells machine vision systems for quality and process control to manufacturers in diverse industries, globally. Today, Xiris specializes in developing imaging systems and software used for process and quality control for the global welding industry. With an extensive product line, Xiris provides some of the world's most dynamic manufacturers with the ability to detect, recognize, and interpret quality defects in their manufactured goods.
Here is a quick timeline showing some of Xiris' history and growth over the years.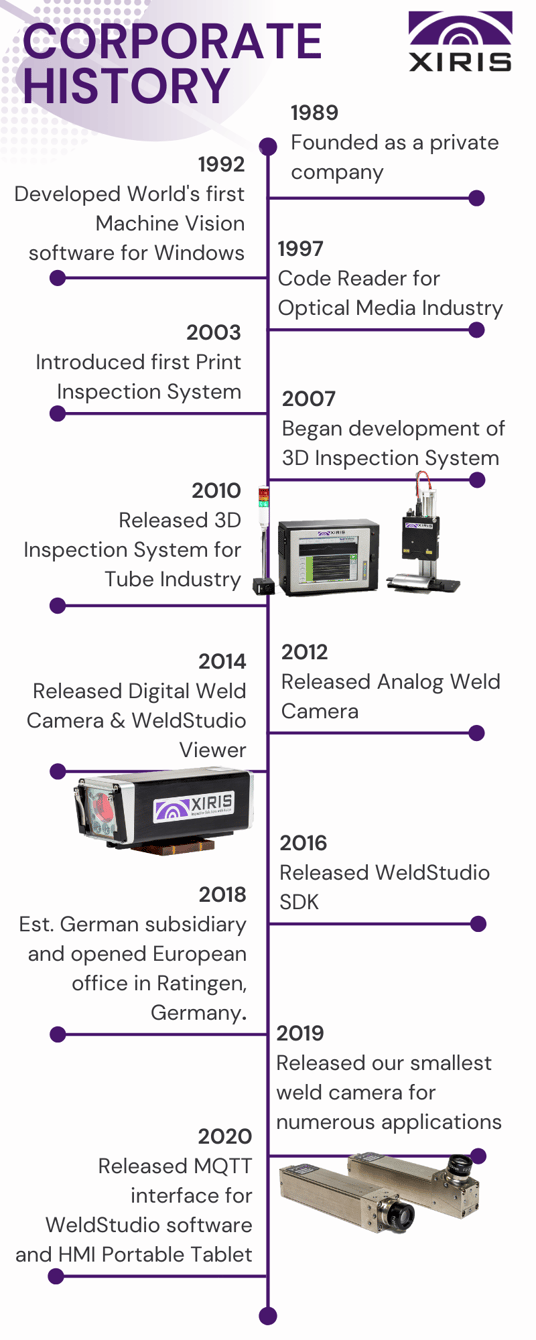 Xiris has continuously innovated to be able to deliver the highest quality products and services for our global customer base. Despite the challenges presented in 2020, our product development team has continued to work relentlessly, releasing the new MQTT Interface for WeldStudio™ software, as well as an HMI Portable Tablet. Seeing many welding educators and instructors struggle to adjust to new learning formats, our team also increased efforts to provide new solutions for schools and training centers. Not to mention the hard work that has been dedicated to developing a new camera to be released in the new year.
The Xiris XVC-1100e weld camera in action at IRCO Automation
Xiris Participates in the Ontario Made Program
Xiris is not alone in our dedication to improve and develop new products for the global market. The manufacturing sector in Canada is critical to allow our communities to flourish and help our economy thrive. Ontario is home to many of the Canada's manufacturers that have designed, created, and assembled innovative products for export across the world, and has always been deemed Canada's workshop. Xiris is proud to be an Ontario Made Manufacturer, certified by Canadian Manufacturers and Exporters (CME) in collaboration with the Ontario Government.
The Xiris XVC-1000 Weld Camera
As part of the Ontario Made program, Xiris will be listed in a searchable consumer database. We are happy to be a part of the program and look forward to future opportunities with new domestic and international customers. We are also thankful for our long-standing support from both our local and global customers that we have received over the years.
---
Better Images. Better Decisions. Better Process Control.
Follow Xiris on social media for regular updates or subscribe to our blog!