As we have mentioned previously on this blog, Metal Additive Manufacturing (MAM) is a modern technology and fast-growing industry that offers several benefits for manufacturers of precision parts. However, we have also explained that MAM still does not come without its challenges as many process and quality control issues can arise due to the complexity of the MAM-produced parts that are destined to industries with demanding qualification procedures. Industries such as aerospace, automotive, medical, power generation and more.
With no room for error, process and quality control is essential and has traditionally been achieved on MAM processes through direct, and often limited-view observation of the deposition process or with statistical non-destructive and destructive post-process testing of many completed parts. This method, however, is often not feasible because of its cost that can increase with the complexity and size of the batch of parts. Instead, fabricators should consider the use of thermal imaging cameras, specifically with Short-Wave InfraRed (SWIR) imaging technology such as the Xiris XIR-1800 Thermal Camera.

Over the past few months, we have shared in a series of blogs the numerous benefits of using SWIR imaging technology in MAM including:
In today's final part of the series, we will be sharing how SWIR imaging allows an operator to see the features of a weld, even when no welding is present.
SWIR imaging, compared to other types of IR imaging such as LWIR or MWIR, is more sensitive to wavelengths less than 1100nm and can be used to see cooler objects when no welding arc is present. This can be particularly useful during the set up of a welding process before an arc has been struck, or after the welding process to monitor the cooling rate of the weld bead. Illuminating the weld area with Near Infrared (NIR) LEDs during set up is easily done, as the NIR end of SWIR wavelength (i.e., < 1100 nm) is sensitive to reflected radiation.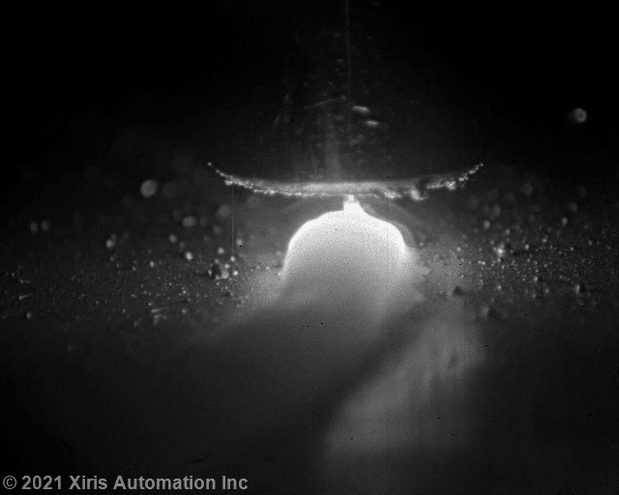 Using the Xiris XIR-1800 Thermal Camera with SWIR imaging technology can provide enhanced imaging and monitoring of metal joining processes and significantly improve the quality of deposition in Metal Additive Manufacturing.
Be sure to check out the previous blogs in the series to learn more. Or you can request a copy of our most recent webinar on Thermal Analysis for Welding and Additive Research. In this webinar, our experts discussed how the XIR-1800 can open entirely new avenues of process development and research, from weld pool segmentation to metallurgical analysis, as well as answered some frequently asked questions.
---
Stay up to date by following us on social media or subscribe to our blog!